Greetings friends,
I was asked to create a series of scary stories and provide a tour about Salem, Massachusetts back in 2014.  I struggled and abandoned an attempt to rehash trite internet lore and camp fire stories.  I asked myself two questions. what is it that I love about the Salem Experience?  What is it that initially drew me to Salem and it's modern magical aspect.
I realized people would be interested in hearing my stories that were authentic, accounts of the witch trials of 1692, real experiences of paranormal events and to allow visitors to participate in ritual circle each night with a real human skull.  The skull is my assistant or I am hers.  In the end I drew from twenty years of my own experience with the spirits and witches of Salem to recount something genuine that I wish for you to remember and cherish after the tour has concluded.  On April 30, 2015 Walpurgis night I renamed my stories.  I would call them Sinister Stories of Salem.
Through these stories I honor the paths of my guests and help confirm that there is a rich world of spirit and in the words of Reverend Cotton Mather and later Robert Calef  "wonders of the invisible world."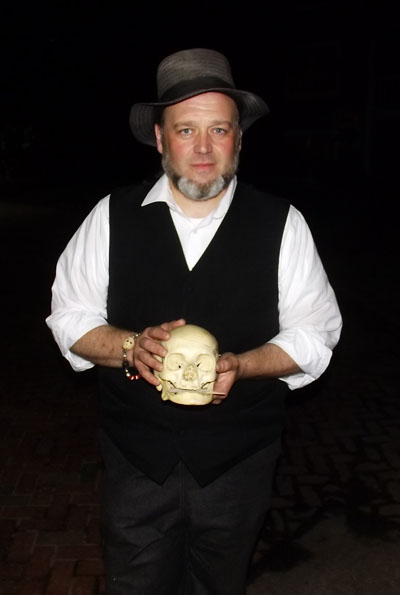 I live in the same place across the harbor in downtown Beverly, Massachusetts where I was born.  As a teenager  I was taught to ring the bell for services at "The Church of Christ at Bass River Side" originally organized by Rev. John Hale and 50 members of the Salem Church in 1667.  Rev. John Hale would later write "A Modest Enquiry Into the Nature of Witchcraft." The elderly Sexton not only taught me to ring the bell but shared stories of a people buried about me.
I met Spiritualists, clairvoyants and mediums who listened and spoke to the dead.  At eighteen I began to attend a meeting of the Religious Society of Friends (Quaker) and I loved the silence.
Later I went to college and was trained in the art and trade of embalming and spent many years employed only in this interesting work.
I am an avid world traveler. I crawled blindly through the dark abyss of tunnels once created with dynamite by 19th century archaeologists at the temple city of Chichen Itza emerging from them into the dense jungle of the Yucatan peninsula. I have hiked the tops of valleys of the Atlas Mountains in in the Kingdom of Morocco, noting the magical systems of belief, burial customs and culture of the Berber people. The lightest I ever packed for a trip.  I had only the clothes upon my back for two weeks.  I did not want to look like a tourist.  I was an enigma to a few people I met there for that reason.  I have twice travelled to the remote Poenari fortress of Vlad Tepes (Dracula) on two of my many journeys to the Carpathian Mountains of Transylvania. There I have enduring friendships and spend one month annually enjoying village tourism in Transylvania.  On these visits I have met a few wonderful friends and began to journal my experiences, the customs and ancient customs and rights I have witnessed there.
In the late 1990's, starting with a carved block of mahogany I made the irreverent, sometimes caustic Myrna, the Death puppet.   An object purported to have a spirit attachment that resembles the grim reaper with which I began to deliver sinister, left handed messages. I did not yet know that I had tapped into something from beyond.  I did not yet identified as a psychic when I began this.  I was just having fun.  I considered the messages of death as improvisational humor and another way to entertain people darkly.
Later starting to realize that this was real, I began to surround myself with people who were on the same journey.  Stepping into this other world more frequently I found that there is darkness, but there is also great good to be found.  I discovered that the people I have known who have died never really go away.  Walking through my day realizing that I was drawn to be aware frequently of friends and people I loved long since dead but that's what happens when you live in one place so long that every place has it's memory.
Through Myrna and a message given and realized I garnered the attention of the late Salem Witch, Shawn Poirier, who asked me to take his witchcraft 101 class in the Salem Family tradition. I started to learn about mediumship and to trust the words that came.  I also enjoyed deeply the experience of it all.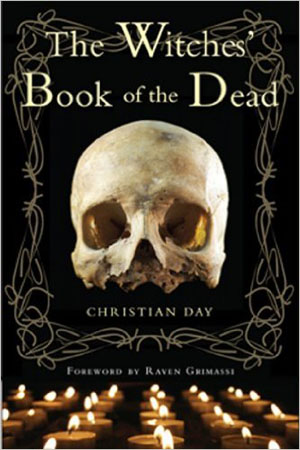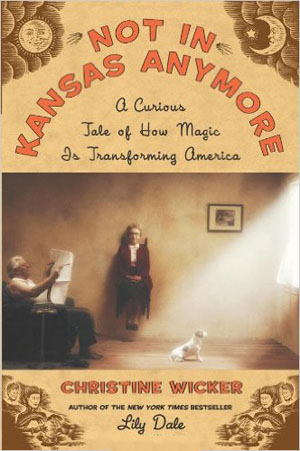 Myrna the Death Puppet and I are currently written about in two books:
Not in Kansas anymore: A Curious Tale of How Magic Is Transforming America
by Christine Wicker ISBN 0-06-072678-4
The Witches' Book of the Dead
by Christian Day ISBN 978-1-57863-506-1
Proctor's Ledge in Salem, Massachusetts.
As some of you may know Proctor's Ledge has been recently confirmed as the location that served as the Gallows in 1692 where nineteen persons were hanged during the Salem Witch Trials.  Recently a group of weighty historians of The Gallows Hill Project confirmed this fact.  Careful research of a thousand documents from the Salem Witchcraft trials, reexamination of the research of 20th century historian Selby Percy and the use of modern technology not previously available guided their careful deliberations over five years.
Nineteen persons were hanged from trees and their bodies discarded to be consumed by animals and the elements.  Some of the executed were recovered clandestinely and given a family burial.  This had to have been a risky activity for those who were compelled to break the law to give a good disposition to a relative just executed for the crime of witchcraft.
So what about Proctor's Ledge now.  Mayor Kim Driscoll, City officials, The Gallows Hill Project and Owners of Private Property immediately adjacent to the strip of woods that contain Proctor's Ledge with its deeply sad history need to consider next steps. Proctor's ledge is now essentially under the care of committed persons whose oversight is to ensure good order at Proctor's Ledge.
I will not pretend to know what the outcome could or should be.  I have heard that a simple flat marker and walkway for Proctor's Ledge may be proposed.  I would like to direct you to the words of the excellent Blog STREETSOFSALEM whose post "Proctor's Ledge and Pendle" says it most succinctly.  I feel that the author is informing us that real estate of Proctor's Ledge could be part of a public initiative rather than a private "attraction" so it profits no one.
What makes Proctor's Ledge important is also what makes it sacred.  Here at this place, over some months in 1692 on a precipitance at the edge of a field nineteen persons who were condemned with a special ferocity for the crime of witchcraft were hanged to death on trees in the presence of the community.  eventually first hand knowledge and second hand knowledge past more into obscurity and rumor with the death of each succeeding generation since that time.
People will come to Proctor's Ledge.  Interested persons have been coming for years.  For the time being we are waiting on the City of Salem to decide the way to recognize the site.  In the meantime Mayor Kim Driscoll has said that the Salem Witch Trial Memorial by the Burial Point is still the best place to honor the memory of the dead.